Photographer Helmut Newton was both prolific and highly sought after right up to his unexpected death in 2004 in Los Angeles, CA. Born Helmut Neustädter in Germany on October 31, 1920, photography became a central focus early in his life. By 1936, he began an apprenticeship with Yva, the renowned photographer also known as Elsie Simon. Her celebrated work included the subjects of theater, elegant fashion and nude photography, and her influence inspired Newton's work throughout his career.
Artwork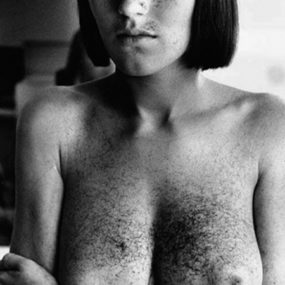 Helmut Newton is famous for his black and white work that combined the palpable feel of noir photojournalism of the 1930s with the iconoclastic New Wave movement of European art cinema. Newton demonstrated directorial skills staging his shots to convey the naturally voyeuristic nature of photography. His trademark photographic expression became inextricably tied to Vogue magazine in Australia, Britain and France for a quarter of a century. His artistic contributions reached many prominent publications throughout the years, including Playboy, Marie-Claire, Nova, Elle, Queen and rounding out the remaining editions of Vogue in America, Germany and Italy.
Newton's signature style centered around fashion, nudes and portraits. He had an eye for staging vignettes laden with the controversial elements of voyeurism, fetishism, sado-masochism and lesbianism. He consistently blurred the lines of conventionalism instigating outrage in some and satisfaction in others. His photography could be considered a hybrid, certainly provocative, and typically documentary resulting in a decidedly stylized version of life in his interpretation of both the elegant and decadent lifestyles.
Newton's portraiture grew to be an important aspect of his work. Initially associated with the world of fashion, he broadened his subjects as the years went on. His portfolio expanded to include many intriguing personalities moving beyond artist and actors to include film directors, politicians, industrial and business magnates and those who hailed from the powerful and charismatic across all spheres of influence.
Helmut Newton's work is compelling. As you begin to explore his portfolio, you simply want more. You can detect his sense of humor as you journey through the pieces and perhaps find his ability to play with form and lines, especially in his black and white work, awe inspiring. He has certainly put his stamp on theChris way we see photography. We are all fortunate that his work is preserved in these images that we are able to revisit and recognize some of the more iconic images that have become a part of our collective history.